Well shoejunkies, recessionistas and alike, Artscape (the nation's largest free arts festival ) is upon us.
MARVEL! at the 1000s of people roasting with you in the noon day sun!
BASK! in the not quit adequate cooling mist stations as they cool your body and dismantle your look.
AMAZE YOUR FRIENDS! as you muster self discipline to lug chairs and blankets where you CANNOT see your favorite artists.
SURRENDER! all coolers at the gate.
SAVOR! that festival pricing on all snacks and drinks!
COUNT! the African shirts and 10 foot long frozen drinks. You feelin' arty yet?
Okay. Cynicism aside. It is pretty fun if you prepare for all of the above. How many of us can say we saw Ray Charles and Issac Hayes last performances in Baltimore. Artscape. Who can say they saw De La Soul, Black Sheep and Busy Bee free. Artscape. Then Meshell Ndege Ocello working the crowd into a funk frenzy. You guessed it. Artscape and it only gets
better
. So now that we know what we're in for, let's say fuss free hair, minimal makeup, sensible yet sexy shoes.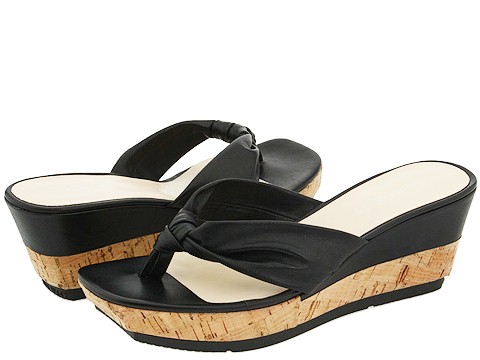 How 'bout a fuss free nu boho look where your kimono made from a T-shirt goes great with khaki cargo bloomers some cute wedges. Nine West Zarend Perfect for just such a look and its still sexy. $68.95 @ Zappos
Or maybe get Jane Birkin on 'em. Non fussy clip roll hair, mod waterproof liner, denim Bermuda shorts, nautical striped halter top and espadrilles. Check It... Esfamenco.com has reasonably priced handmade espadrilles in all sorts of styles and colors like these. Check all the
styles
only
$30.63 @ Esflamenco.com
Now the big easy is a knit maxi dress with the thong sandal. Classic... I have a feeling next years pics will show this look wins overwhelmingly.
Clarks

Margot
is an awesome look and totally comfortable.
$50
@Zappos
Silver jewelry brings out the simplicity. Hoops and bangles work with every look. You decide the size. Here's a tip: Eat before you go. Then you can shop and drink more. And your feet will be so happy. Oh yeah and wear the sunscreen. Trust me...
Happy Artscape.....